To Hibaldstow and beyond!
Little Big Dog will be delivering beers to Scunthorpe and area this Saturday 22nd May. Calling at Barrow, Barton, Brigg, Broughton, Hibaldstow and Scunthorpe. Other stops available on request.
Minimum order of 6 beers to qualify for free delivery.
Prices and availability in the pic.
Place your order via the contact page.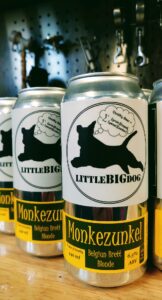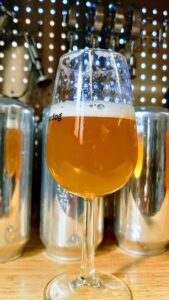 Monkezunkel – Belgian Brett Blonde 6.5% ABV
This beer started fermenting on "Orval" Trappist yeast in early December. It then moved onto a blend of Brett yeasts for 3 months. And it's taken another month for me to get around to canning it.
Brettanomyces yeasts chew on the sugars that regular brewing yeasts cannot consume. They convert some of the esters into other aromatic compounds and ferment complex sugars to leave a drier beer.
Although we are not trying to clone Orval, we are copying their process to make a complex Belgian beer, I love the complexity that Brett fermentation brings to beers.
The result is a very drinkable 6.5% pale beer – "digestible" as the Belgian beer aficianado would say – more fruity than spicy with hints of phenolics and maybe a touch of acidity too.
Like Orval, this beer will continue to evolve over time as the Brett yeasts will still be around in small quantities and continue to convert esters to other aromatics.
The White Swan in Barton took a case and reordered 2 more cases just 4 days later as it had all sold.
I've held a few cases back for my regular deliveries – I know a few of you have been awaiting Monkezunkel.