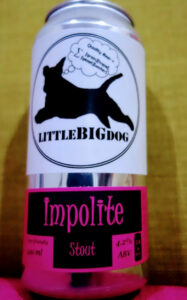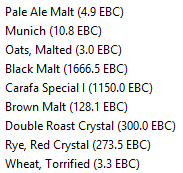 This stout is an attempt to recreate the depth and complex flavours of an Imperial Stout but without the colossal alcohol content – hence the idea for the name Imp-(o)-lite. At only 4.2% ABV it is surprisingly complex yet easy drinking. I've brewed this in a variety of  guises and each has been a hit. The taste is all malt driven here with hops taking a back seat. This version uses nine different malts.
It used to include coffee too – maybe I'll brew that as a special again one day soon.
Carafa Special Malt is a dehusked grain to remove some of the harshness from the "burnt" grains. This, along with the Black Malt, give the "stout" character and colour. They are added to the mash tun at the very end to ensure a smooth taste without astringency. Oats and wheat add body and mouthfeel, whilst Munich, brown and crystal malts add depth to the middle.
It's been bubbling away in the unitank for a week now  – another fortnight until it'll be available in cans. I know Mike B. is eagerly awaiting the return of this one having personally emptied my stocks of the previous batch. He does like a dark beer.